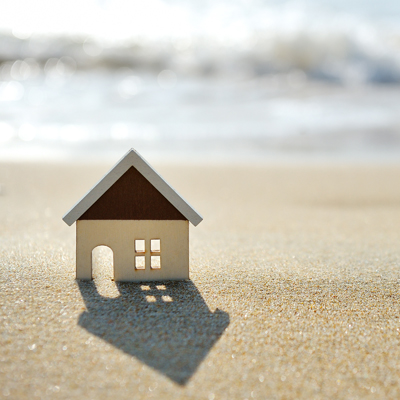 If you're shopping for your dream home, you may have questions about homeowners insurance. It's another expense of home ownership, so it's logical to ask the question: Do you need homeowners insurance, and if so, when in the house buying process do you buy it?
Here's a list of frequently asked questions and answers to help you understand when you need to get homeowners insurance.
Is Homeowners Insurance Required?
There's no law that requires home insurance. But mortgage lenders do require you to get home insurance coverage before they will agree to finance your home purchase. Home insurance protects the mortgage lender's investment by providing the money to repair or rebuild the home if it is damaged or destroyed by a fire, a lightning storm, a tornado or some other covered event.
What Kind of Homeowners Insurance Do I Need?
There are many things to consider, but for starters, you will probably want a homeowners insurance policy which typically covers:
Your house: Homeowners insurance coverage can help pay to repair or rebuild your house and possibly other structures on your property, such as a detached garage or a storage shed, after damage from a covered loss.
Your stuff: Homeowners insurance can help pay to replace your possessions if they're damaged or destroyed by a covered loss.
A place to stay: Your homeowners insurance policy may include additional living expenses (ALE) coverage to help cover the cost of a hotel or other lodging while your home is being fixed or rebuilt.
Legal bills: If a guest slips on your walkway, you could be held liable. In this case, your homeowners insurance can help cover the related medical bills, your legal costs and potential court awards up to the dollar limit determined in the policy.
Generally, a typical homeowners policy does not include coverage for earthquakes or flood. Depending on the location of your home, your lender may require you to buy insurance that covers loss caused by earthquake or flood . And if you have valuable items that exceed the special dollar limits of your homeowners policy, such as an art collection or fine jewelry, you may want to purchase extra coverage, known as a Personal Articles Floater (PAF), for those items.
Is Hazard Insurance the Same as Homeowners Insurance?
Some mortgage lenders use the term "hazard insurance" to refer to the part of a homeowners insurance policy that covers the structure of the home. Even if the terminology seems a little confusing, simply put, this means the lender requires that you have homeowners insurance. The lender also may require you to have flood insurance or other coverage, depending on the location.
Lallis & Higgins Insurance allows you to customize your coverage to fit your unique needs. We'll help you understand the risks you face and get the coverage to help prepare you for the unexpected. Contact us.