Water Back Up Insurance Coverage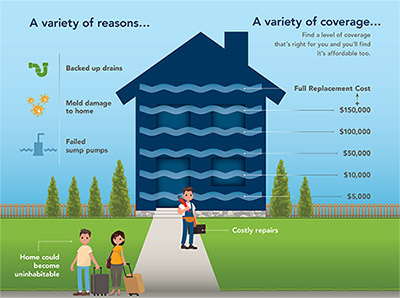 A water backup and sump pump overflow endorsement on your homeowners or renters insurance provides added protection from costly water damage resulting from backed up drains or failed sump pumps.
Water backup protection provides coverage for damage to your property caused by things such as:
Backed up drains
Heavy rain
Failed Sump pumps
Sewer back up
Mold damage
Root Invasion from your yard
Debris causing a clog
Toilet overflowing
Protect against unexpected expenses caused by water back up and sump pump failure
Water backup coverage is an optional endorsement that must be added onto a standard homeowners, condo or renters insurance policy. Without the endorsement, you would be stuck paying for the cost of cleanup or damages caused by a sump, sump pump or similar equipment that's not considered a plumbing system or household appliance.
Claim service that delivers
Whether it's in pipes or under the ground, your property is surrounded by water. Water damage — resulting from backed up drains or failed pumps — is one of the most common homeowners insurance claims. Water damage is the third most costly claim behind fire and liability lawsuits, according to the Insurance Information Institute. Because water damage incidents like these are often not covered by a home policy, it's important to make sure you are protected with a water backup endorsement.
Affordable
The average cost of water backup and sewer coverage is $50 to $250 annually, depending on your risk exposure and the limits you select. Different limits are available to match people's different needs. For example, think about what's in your basement—it's an area that's more likely to flood during a water backup. Is it partially or fully finished? Is your basement a storage area for expensive or hard-to-replace items? Work with your insurance agent to choose a limit that matches your unique coverage needs.