Service Line Coverage
This new enhancement protects homeowners against the expense of costly excavation and repair of underground utility wiring and piping.

Available stand-alone or as part of the Buried Utility Lines and Equipment Breakdown Package, Buried Utility Lines Coverage guards against the expense of damage to underground utility pipes and wires, such as:
Water Piping
Steam Piping
Sewer Piping
Drain Piping
Cable Lines
Sprinkle Piping
Protect against unexpected expenses caused by underground damage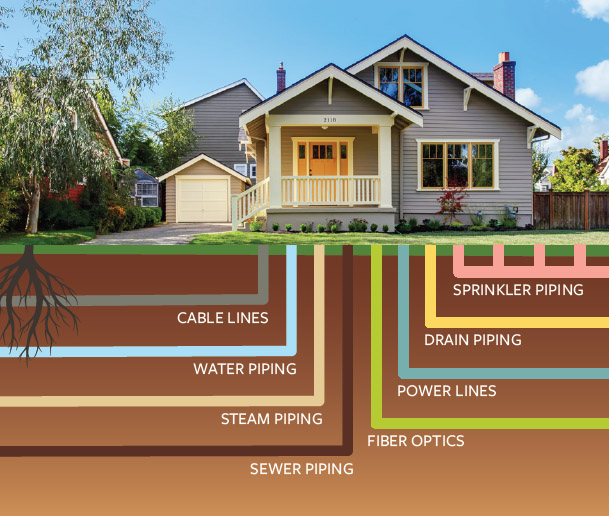 Many homeowners do not know that the repair or replacement of service lines on their property may be their responsibility and that homeowner's insurance policies typically do not cover damage to them.
With service line coverage, the homeowner is covered when one of these lines leaks, breaks, tears, ruptures, collapses or arcs. Should a covered loss occur, coverage is available to pay for the damage to the utility line, excavation costs and expediting expenses to make repairs.
Affordable add-on
Customers can get up to $10,000 in coverage for $30 or $20,000 in coverage for $40, with a deductible of just $500.
Easy to understand
We make it easy to sell Buried Utility Lines Coverage by providing you with an illustrated graphic that highlights the unseen dangers.
Frequently asked questions about Buried Utility Lines coverage Does
Does the covered utility line need to be on the insured's property?
Yes. The service line must be located on your premises and provide a service to the residence or related private structures.
What are the causes of loss that are covered?
Here are some examples of causes of loss that are covered:
Wear and tear
Mechanical breakdown
Rust or other corrosion
Tree or other root invasion
Vermin, insects, rodents or other animals
Freezing or frost heave and thaw
Weight of equipment, vehicles, animals or people
Is my septic system covered?
The piping that runs from the dwelling to the septic tank is covered, but the septic system is not.
What is not covered?
Here are a few examples of what is not protected under Buried Utility Lines coverage:
Wells
Heating systems, except piping for geothermal heating applications
Fuel tanks
Can the insured replace the service line with more environmentally friendly materials?
Yes. Policies will pay an additional percentage of the cost to repair or replace the buried utility line with materials that are considered environmentally friendly and more efficient.
Is a sprinkler system covered under Buried Utility Lines Coverage?
Underground sprinkler lines are covered, but the pump, motor and heads are not.
To learn more about Service Line Protection Call us at 781-561-9031.