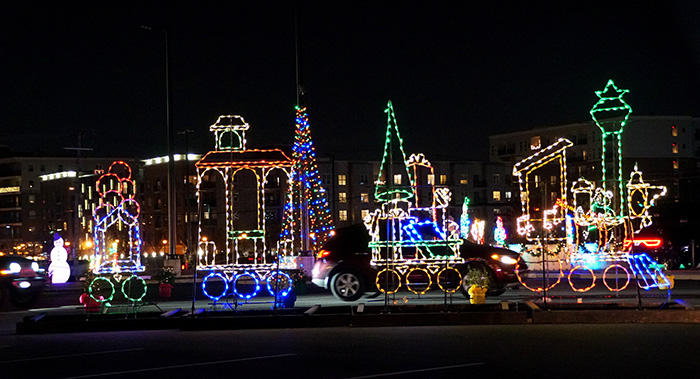 There is still time to make the most of this magical time of year! Get into the holiday spirit and join in some festive fun with these events and activities. There is bound to be something close to home that the whole family will enjoy!
Brewster Gardens Light Up the Night: Plymouth
There's no need to spend a lot of money to make lasting memories. The gorgeous Brewster Gardens in Plymouth have been filled with Christmas lights and are completely FREE to enjoy! The walkable trail is open from December 3rd to January 1st (5-9pm) so you have plenty of time to plan your visit. The Gardens are located at 57 Water Street in Plymouth, MA.
Winterlights Display at the Eleanor Cabot Bradley Estate: Canton
If you're looking for a full evening of seasonal fun look no further than the Winterlights Display in Canton. The beautiful Bradley Estate has been decorated with thousands of lights and the sparkling display has been organized into a ½ mile walk. There are also activities for the kids and refreshments for all! You'll need tickets for anyone over the age of two so check out this link and plan ahead. https://thetrustees.org/program/winterlights-massachusetts/
South Shore Celebration of Lights: Marshfield
The Marshfield fairgrounds aren't just for summer fun anymore! You won't want to miss the creative light displays that have taken over the space! Stay cozy in your car while you drive through this winter wonderland while listening to accompanying music right on your car radio. Check out this link for more information and tickets. https://www.fiestashows.com/fs/south-shore-light-show/
La Salette Christmas Light Display: Attleboro
Beautiful in any season, the La Salette Shrine is even more of a must-see in December! This year's display includes more than 300,000 lights over ten acres. The event is free to all (donations welcome) and can be experienced nightly from 5-9pm through Jan 1st. There is no need to reserve a spot ahead of time but if you'd like more information here is the link to the La Salette website. https://www.lasaletteattleboroshrine.org/
Enchanted Village: Avon
The beloved Enchanted Village is on display at Jordan's Furniture in Avon and is free to explore! Enjoy this vintage and carefully restored collection of toy displays that will warm your heart. If you want to keep the fun going, there are additional ticketed activities available as well, including a ride on the Polar Express! https://www.jordans.com/enchanted-village
Santa's Wonderland at Bass Pro Shops Patriot Place: Foxboro
No winter bucket list could be complete without pictures with Santa. Create lasting holiday memories at Bass Pro Shops by signing up for free pictures. There will also be crafts, games, and activities. Sign up here https://www.basspro.com/shop/en/santas-wonderland and enjoy!