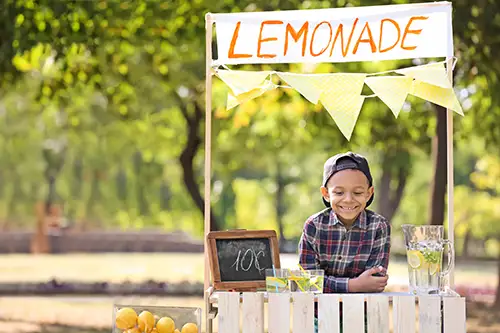 Every year it seems like everyone is much happier in the summertime. When we picture a summer scene, it includes kids running around laughing with joy. Here are ten ideas bound to provide kids that summertime joy.
1. Make your own popsicles
There's nothing like enjoying an ice-cold popsicle on a sweltering hot day. Elevate your popsicles by making them homemade. Not only will this be a healthy and fun activity for the kids, but you also can't beat the fresh taste.
2. Run a lemonade stand
If you have a little one with an entrepreneurial spirit, help them start their first business venture with a lemonade stand. All you need is a table, a sign, a box for that hard-earned cash, lemons, sugar, a pitcher, and ice. Serve refreshing lemonade in disposable cups, or for an eco-friendly option, put out some chairs and serve glass cups instead.
3. Collect seashells
Take the kiddos for a beach day and walk along the water collecting seashells. This makes for great conversation, creativity, and some home decor the kids can cherish forever.
4. Do a cannonball
Make sure an adult is watching at all times, tuck in your knees, jump into the pool, and make the biggest splash possible.
5. Play on a slip and slide
You can rent a slip and slide or buy one for under $20 and you're in for hours of happy screeches and belly laughter.
6. Tie-dye shirts
Have any old t-shirts lying around? Upcycle! Grab a non-toxic tie-dye kit and get creative. Tie-dye never goes out of style.
7. Fly a kite
You'll need some good wind for this one. The beach or anywhere near the water is usually a good bet. Kites come in every shape imaginable and create the best memories.
8. Plant flowers
A green thumb is a great skill to have, so start them young! There's something really special about planting flowers in the summertime and watching them grow.
9. Run to an ice cream truck
Who doesn't love ice cream in the summer? When you hear the music playing, don't walk, RUN!
10. Make homemade PlayDough
Making PlayDough is not only fun, but you also know exactly what ingredients are going into it, and likely into your little one's mouth. Pro tip: skip the food coloring and use juice from your favorite berries instead.