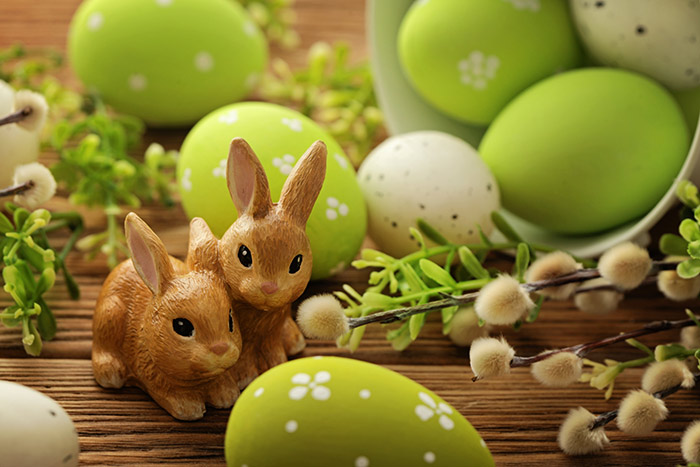 Nothing says Spring is here more than Easter Egg Hunts! Checkout our list of local events coming up this month to have fun at with the family.
Sat Apr 13, 2019 - Sun Apr 21, 2019
Easter Activities at Bass Pro Shops 1 Bass Pro Dr. Foxboro, MA
There will be Easter activities for the whole family, including photos with the Easter Bunny, crafts, and an egg hunt. Photos with the Easter Bunny (Saturdays from 11am to 5pm, Sundays from 12pm-5pm, Monday from 5:30pm to 7pm, and Friday from 2pm to 8pm). Crafts for Kids (Saturdays and Sundays from 12pm to 5pm, Friday 4/19 from 3pm to 7pm). Easter Egg Hunt on Saturday April 20 from 2-3pm. FREE 4x6 photo each day; one per family! https://stores.basspro.com/us/ma/foxborough/1-bass-pro-dr.html
Sat, Apr 13, 12 – 4 PM
Adult Easter Egg Hunt! The Brook Kitchen & Tap 200 S Franklin St, Holbrook, MA
Kids shouldn't have all of the fun, so join the Holbrook Rotary Club in Holbrook's first ever Adult Easter Egg Hunt Holbrook Rotary Club's Adult Easter Egg Hunt will be held on Saturday, April 13. https://www.eventbrite.com/e/adult-easter-egg-hunt-tickets-56860754046
Sun 4/14 12:30pm
Spring on the Lawn: A Loring Greenough EggSpectacular! 12 South St. Jamaica Plain, MA
Egg Hunt, Ice Cream, Spring Parade and Portrait station with the bunny himself! – BYOCamera! Egg Hunt on the Lawn plus new kids activities, snacks, and special guests! New this year: Timed hunts for different age groups in separate hunt zones! Be sure to stop in at The Eliot School to decorate eggs before the event! 10:30 – 12:30. Arrive at 12:30 to register your hunter(s) in their age group. (If you pre-register online, you can skip the line!) http://loring-greenough.org/house-event/spring-on-the-lawn-annual-egg-hunt-and-spring-celebration/
Friday Apr 19th & Sat Apr 20th 11-3pm
C.N. Smith Farm 325 South St. East Bridgewater, MA
Due to the size of the contents of the eggs children must be a least 3 years of age to participate. Each Easter Egg Hunter is provided with one egg carton to fill with 15 eggs. Easter eggs are filled with candy and toys. We request that all young children be accompanied by an adult. http://cnsmithfarminc.com/special-events/easter-egg-hunt/
Sat, Apr 20, 9:30 - 12PM
Irish Cultural Center 200 New Boston Dr. Canton, MA
Check out Easter Egg Hunt at The Irish Cultural Centre of New England in Canton on April 20, 2019 http://www.irishculture.org $8 per person – pay at door. Includes pancake breakfast, face painting, hayride and more.
Sat, Apr 20th 10AM – 12 PM
United Church of Christ 460 Main St, Norwell, MA
This free event includes a DJ, crafts, games, and an Egg Hunt! All are welcome to this community Eggstravaganza. RSVP online at https://www.uccnorwell.org/event/3227
Sat Apr 20th 1pm
KPNA 6 Annual Easter Egg Hunt, 891 Montello St Brockton, MA
The Keith Park Neighborhood Association hosts their 6th annual Easter Egg event -- fun for kids up to about age 14. Enjoy arts, crafts, an egg and spoon race, the egg hunt, a free photo with the Easter Bunny, and every child goes home with a Bunny Bag of sweet treats. The event is free and you can find details here: https://kpnabrockton.weebly.com/
For more information, contact Lallis & Higgins Insurance.