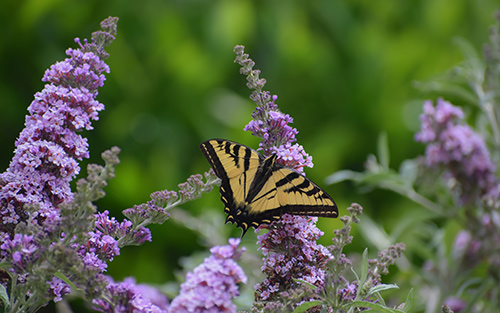 After a long, cold winter, gardeners are anxious to be outside and get their hands in the dirt. As memories of harsh winter storms fade in the warmer days of spring, it's time to think about waking up the garden for the new growing season. With so much to get done, it's easy to feel overwhelmed on where to begin. By planning ahead and getting yourself organized, spring chores can be a snap. Here are some tips to get you started.
Start seeds
Start seeds of vegetables and annuals indoors 6-8 weeks before you plan to set them out. Make a planting schedule so that seedlings are mature at the optimal time for your region. Once soil temperature reaches 40 degrees F, crops such as greens, radishes and peas can be directly sown. Wait until soil temperature warms to 50 degrees F to plant cabbage, onions and Swiss chard. Summer vegetables can be sown in late spring.
Prune shrubs and vines
Now is the time to prune roses, (some) shrubs and perennial vines. Remove dead branches and shape plants once new growth appears. Research proper pruning techniques and timing for each variety, and hold off on pruning spring bloomers until after they flower.
Prepare ornamental beds
Start with areas where spring blooming bulbs are peeking up to spiff up early color displays.
Rake out debris and cut back perennials and ornamental grasses before new growth appears.
Clear out weeds using these organic methods.
Top dress with several inches of homemade compost or well-seasoned manure, which will add slow-release nutrients, suppress weeds, and conserve water during warm summer months. Learn more about mulching.
Fertilize trees, shrubs, and perennials according to individual needs.
Divide perennials
Once new growth appears, it's a good time to divide perennials. Transfer extra clumps into bare spots or give them away to friends. If you belong to a neighborhood gardening group or club, organize a plant swap. It's a great way to try out new plants for free.
Rejuvenate water features
Remove dirt and debris from water features and clean or replace filters. Turn on pumps and make sure water is circulating properly. For natural water gardens such as ponds or bogs, add beneficial plants or apply other algae control methods to maintain a healthy ecosystem.
Source: gardendesign.com