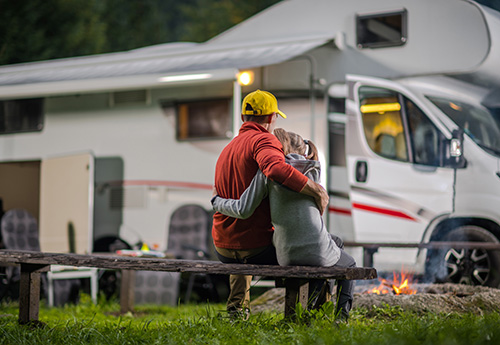 So, you've finally taken that big step and purchased that recreational vehicle you've been dreaming about. Now, how do you plan to insure your new home on wheels?
Even if you've had your RV for years, it's a good idea to review your insurance coverage and make sure that you have all of the coverage you require, at the best price possible.
After all, an RV is a huge investment for any family, whether it's a small pop-up trailer or a mega motor home.
Here are a few things to consider:
Travel Trailer Insurance: Your car insurance likely covers your RV travel trailer, right? So why buy specific RV insurance? Well, regular insurance only covers a trailer when it's hooked up to the car or truck that's pulling it, and won't cover a motor home at all. Get that special RV insurance to be sure your RV is covered, even when it's not hooked up.
Medium Trucks: If you've got a truck bed camper on a truck over 10,000 pounds, you are likely not covered under your normal auto policy. Get that RV insurance.
RV Replacement in Case of Accident or Theft: When shopping for insurance, ask if your quote includes Actual Cash Value (ACV), Agreed Value or Total Loss Replacement. ACV is the market value of the RV as decided by third party sources. Agreed Value means that the company agrees to an amount up front with the policy holder; and TLR means the company will provide the insured with a replacement RV if yours is lost or stolen when it is under 5 years old.
Emergency Expenses: If you are living in your RV full time, you'll want to be sure you have a policy that reimburses you for living expenses should damage occur.
Emergency Roadside Assistance: In case of an accident or mechanical failure, an RV can cost up to 3 times more to tow than a normal vehicle. Having an RV road assistance plan is a good feature. Kampgrounds of America has a special agreement with Allstate to provide the Allstate RV Roadhelp Program to our KOA kampers at a special reduced rate.
Collision coverage while in storage: If you store your RV for extended periods, you may need to be sure your policy includes coverage during that storage.
Liability Insurance: RV owners can be held liable for injuries that occur as a result of an accident in or around their RV. Most RV insurance gives an owner higher coverage limits on incidents of this sort.
Replacement of Stolen Property: Your RV holds a lot of specialized equipment, including stereos and televisions. Be sure your policy has a replacement option for your property.
So, how do you get started on your quest to find the very best option when it comes to your RV insurance coverage? Kampgrounds of America has also partnered with Progressive Insurance to provide our KOA kampers with quality coverage at very competitive prices.
Contact Lallis & Higgins for more information.