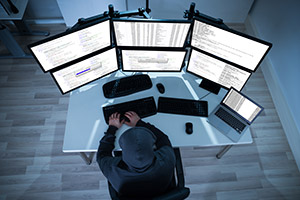 Cyber scams are nothing new. Every day, con artists are looking for the best "marks."
Think you're not worth being the target of online predators? Think again!
Hackers don't need to know how much is in your bank account to want to get into it. Your identity, your financial data, what's in your email…… it's all valuable. And cyber criminals will cast as wide a net as possible to get to anyone they can. They're counting on you thinking you're not a target.
So how can you reduce the chances of falling for the scams? Learn the signs!
Let's start with the basics of "cyber hygiene," easy and common-sense ways to protect yourself online.
Here are the 4 things you can do:
Implement multi-factor authentication on your accounts and make it significantly less likely you'll get hacked.
Update your software. In fact, turn on automatic updates.
Think before you click. More than 90% of successful cyber-attacks start with a phishing email.
Use strong passwords, and ideally a password manager to generate and store unique passwords.
Being cybersmart is contagious.
Our world is increasingly digital and increasingly interconnected. So, while we must protect ourselves, it's going to take all of us to really protect the systems we all rely on. Being cyber smart is contagious. Take the four basic steps outlined above and help two friends do the same.
For more information, visit CISA's Cybersecurity Awareness Month Resources page.