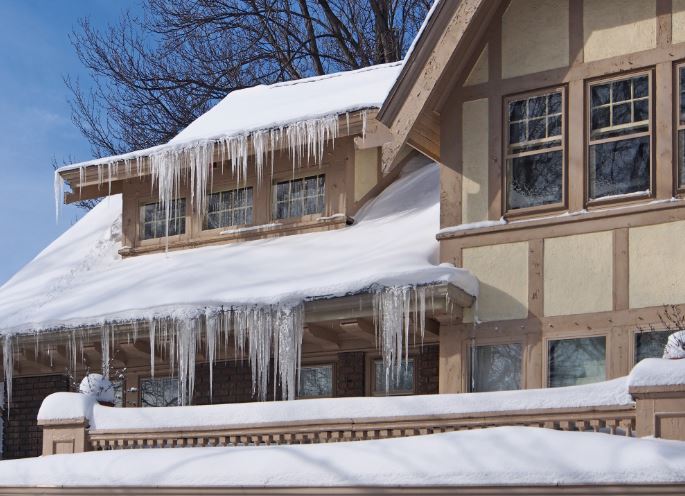 Every homeowner needs to take measures to keep their homes safe. Living in Quincy and Weymouth or anywhere on the South Shore means that you will most likely experience severe and harsh winter months.
Let's look at some steps you can take to keep your homes safe and secure during the winter months.
Make sure your fireplace is clean
When you think of winter, one of the first images you're likely to think of is being curled up in front of a warm, crackling fire. If you enjoy getting your fireplace roaring when it's cold and miserable outside, you're not alone!
Before lighting the first fire of the season, make sure that the hearth is clean and the chimney is free from any obstructions. If the chimney is blocked, it could lead to noxious and harmful fumes filling your home.
Check that your heating system is in order
Central heating is a wonderful thing. The minute you step into your home from the frigid weather outside, you can breathe a sigh of relief: your home is warm and toasty.
During the winter months, a large number of household fires take place. These have been attributed to faulty heating systems. Schedule a check-up with the company that installed your heating system right before it starts to get cold. This will also ensure that your heating system is heating your home properly.
Be careful with the candles
You might be lighting them on festive dinners or in the evening when you're winding down. Whatever the case is, make sure you handle the candles with care.
This means making sure that no candle is left burning unattended while you're out or in a different room. Make sure candles are placed at a safe distance away from anything which can catch fire, such as curtains. If you have young children and pets, take extra care to ensure that candles are placed where they cannot be knocked over or reached by them.
Keep the steps and walkway leading up to your home clean
If you've been graced with a nice amount of snow or freezing rain, the last thing you want is a slippery walkway. The cold temperatures make matters even worse and often result in your steps and walkway freezing over. The icy surface can lead to many accidents if not taken care of.
Make sure that you keep your walkways and steps clear of all snow. Sprinkle salts over all of these areas to prevent any snow or ice accumulating at these points.
Install a carbon monoxide alarm
Whether you're lighting your fireplace or using other various forms of heating, a carbon monoxide alarm is very important to have. These alarms monitor the levels of carbon monoxide in your home and are triggered when there is a dangerous amount of carbon monoxide in the air.
Having one of these alarms could potentially save your life.
Insulate exterior water lines
You don't want your water supply to freeze over, do you? With those horribly cold temperatures, it's a good idea to get all your exterior piping properly insulated. This will ensure that even when temperatures fall below freezing, you'll still have warm flowing water.
Get your home properly insulated
Make sure the exterior of your home and your walls and windows are equipped to handle the cold. Get storm windows installed in the event that you're stuck in the middle of a relentless blizzard.
Weather stripping and insulation should also be installed to ensure that your home remains warm.
Make sure your home is well lit
Winter means shorter days and longer nights. When faced with longer periods of darkness, take care to make sure your home is well lit. Burglars and thieves like to operate under the cover of darkness. Consider installing a few extra lights outside to make your home brighter and less attractive to criminals.
Keep your driveway clean
Make sure you shovel your driveway and scatter salt or sand to keep it from freezing over. This will make it easier for you to walk to and from your home. It will also make accessing your car much easier and can help prevent your garage door from freezing.
Clear the drains
Before winter sets in, make sure that all of the exterior drains are free from any leaves or debris. Otherwise, they will likely freeze over and prevent snow, slush, and freezing rain from adequately draining. If this happens, you stand the risk of too much moisture building up on your roof. Alternatively, if the debris freezes in the drains, the drains could also burst.
Whenever winter rolls around, make sure you and your family are prepared for the colder months ahead. This includes taking all steps necessary to 'winter-proof' your home. By doing so, you can eliminate or reduce the risk of having to deal with a number of problems and can have a relatively enjoyable winter.
For more information on home insurance and keeping your home well protected, contact Lallis & Higgins Insurance.
Excite.com