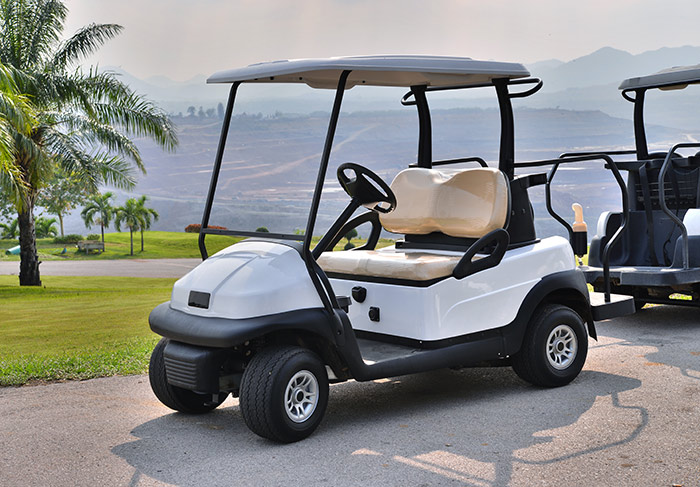 Towing a golf cart or moving it from one course to another is simple enough when you're aware of the steps that you need to follow.
The Best Way to Tow your Golf Cart
At some point you'll have to tow your golf cart from your home to the golf course. Other situations when towing a cart would arise is when you're travelling to an interstate course, or taking your cart in for maintenance.
Towing a golf cart is a moderately easy procedure, but you will need to take care of your cart and follow a procedure.
Here are some simple steps which explain the best way to your golf cart so you understand the process better.
These are the steps on how to tow a golf cart on a trailer:
First, it's mandatory to connect a durable trailer to your towing vehicle. Then you need to attach a ball receiver over the top of the available hitch ball. Then attach a hitch ball to the tow hitch of the trailer. Don't forget to lift the hitch latch present found on the trailer's ball receiver.
Now it's time to secure the ball receiver. You can do this by pulling down the latch. Make sure to secure the latch with a pin or a lock, through the small hole which is located at the front part of the latch. This will secure your trailer and keep it "locked in".
Next you have to connect a wired harness from the tow vehicle to that of the trailer. If required, make sure to drop the ramp gate of the trailer. For that, it is vital to remove side latch pins. Doing this helps in releasing the trailer gate. If there is no sign of a gate, then place two ramps at the edge of the trailer and then just drive your golf cart in.
Now the time has come to load in your cart. For this step you have to push the golf cart right towards the front portion of the trailer's rail. Make sure to set your parking brake on the trailer. You need to use a ratchet or the tie-down straps to ensure that your golf cart is securely placed on the trailer.
The final step is to close the ramp and secure it using latch pins. It's now time to tow the trailer just below the allowable speed limit. If you have to make a turn or pass any vehicle, be sure to drive very carefully. Avoid any sharp turns or lane changes.
Source: golfstorageguide.com