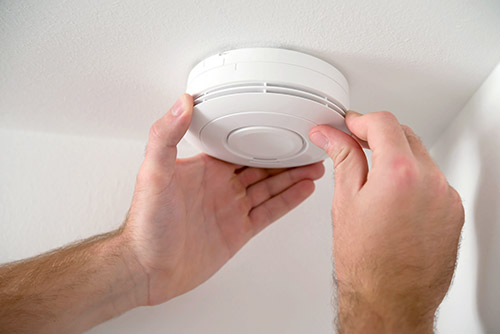 For Fire Prevention Month this year, families should improve their home's safety by checking their alarms, testing the alarms regularly and adding reliable protection when replacing expired alarms. We are dedicated to helping protect what matters most because a home emergency can happen at any time and we want you to be prepared.
Fire Prevention Month is the prefect time talk with your whole family about fire safety – include testing alarms, changing the batteries or upgrading to 10-year sealed battery alarm for hassle-free protection, and escape planning.
3 of every 5 home fire deaths resulted from fires in homes with no working smoke alarms
Less than 50% of homeowners have an escape plan
Carbon monoxide (CO) is the #1 cause of accidental death
60% of consumers do not test their smoke and CO alarms monthly*
Only 47% of people report having CO alarms in their home
Just 43% of homeowners have an escape plan*
Are You Fully Protected?
Having functioning alarms installed throughout your home is the first line of defense for fire prevention. They work around the clock to give your family an early alert in the event of an emergency, allowing you time to safely escape. Smoke and CO alarms should be placed on every level of the home, including the basement, as well as inside and outside each bedroom. Fire alarms should also be placed on every level of the home, especially in the kitchen and garage.
Did you know that if a fire starts in your home you may have as little as two minutes to escape? During a fire, early warning from a working smoke alarm plus a fire escape plan that has been practiced regularly can save lives. Learn what else to do to keep your loved ones safe!
Top Tips for Fire Safety
Install smoke alarms on every level of your home, inside bedrooms and outside sleeping areas.
Test smoke alarms every month. If they're not working, change the batteries.
Talk with all family members about a fire escape plan and practice the plan twice a year.
If a fire occurs in your home, GET OUT, STAY OUT and CALL FOR HELP. Never go back inside for anything or anyone.
For more information on protecting your home, contact Lallis & Higgins Insurance.