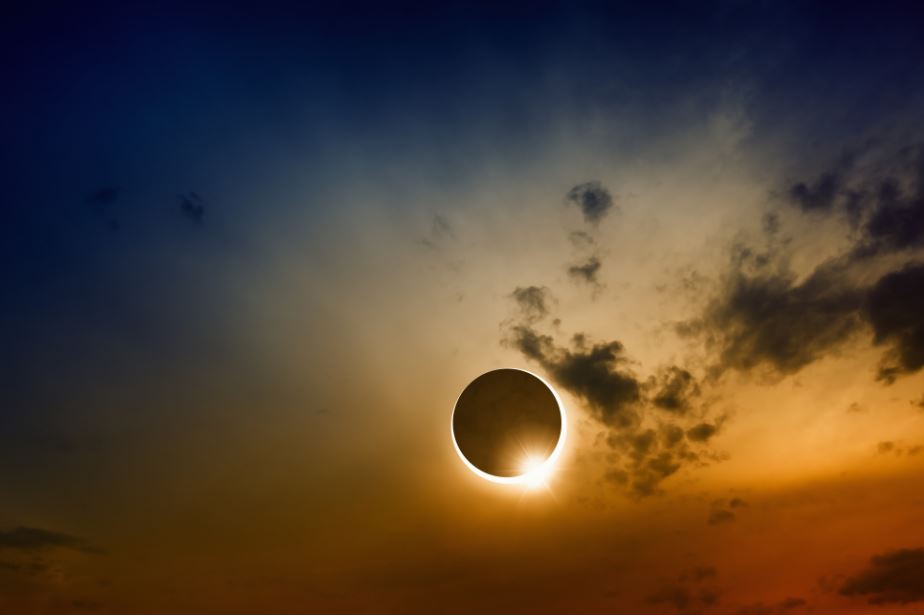 Solar Eclipse FOMO (Fear of Missing Out) is real and on the rise as the day of totality draws near, so here's our guide to make sure you don't miss your chance to see it in Boston.
Last seen in North America in 1979, a total solar eclipse occurs when the moon's orbit aligns with earth and the sun perfectly to completely block out the sun, and causes daylight to darken for a brief moment. However, as historic as the eclipse may be, it's more than stepping outside and looking up. NASA and other experts emphasize the importance of wearing protective eyewear (not sunglasses) while looking at the eclipse, because while the sun is dark, it still emits harmful light to the naked eye that could result in permanent vision loss.
Monday's eclipse will be viewable all across North America, and the weather on Monday afternoon looks like it should be staying clear, with peak viewing of the phenomenon happening between 1:30 p.m. and 4 .p.m. Even though Boston won't be in the path of total darkness, several places around the Hub offer public viewing parties to watch the partial view. A few locations will also provide the necessary glasses in case you didn't get yours in time, they were all sold out, or you got counterfeit glasses from Amazon.
Boston Public Library: Three city branches plan on hosting viewings, and the Central Library at Copley will have activities and a live stream of the path in its courtyard. One of the more popular eclipse events, the library tweeted out that their public supply of glasses is already gone, and the rest will be at the event:
BostonPublicLibrary @BPLBoston
Due to popularity, we are out of eclipse glasses. Some locations have events 8/21, & space is 1st-come, 1st-serve
10:00 AM - Aug 14, 2017
Free, 2 p.m., Boston Central Library, 700 Boylston St.
MIT Kresge Oval: Part of the Department of Earth, Atmospheric, and Planetary Sciences at MIT, this event is free and will take place at the Kresge Oval, outside the MIT Student Center. Unlike the sold-out viewing party at the MIT Haystack Observatory, this event is free to for anyone who drops by, and glasses and specially filter telescopes to view the eclipse will be provided.
Free, 1:30 p.m., MIT Kresge Oval, 77 Mass. Ave.
Northeastern University: Held on the Centennial Common, the physics department of Northeastern will provide viewing cards instead of glasses, and a livestream in case of inclement weather.
Free, 1:30 p.m., Northeastern Centennial Common, 30 Leon St.
Boston Harbor Islands: See the eclipse from one of the nearby islands with a ranger and be a part of "citizen science" by documenting changes in air temperature. The glasses are free with every sign up, and the boat lands at 11:30 a.m. to be sure you arrive at the island with plenty of time.
Free with registration, 11:30 a.m., National Park Service & Boston Harbor Now, Spectacle Island
If you can't make these events, the Harvard-Smithsonian Center for Astro-Physics has developed a free app for the eclipse for both iOS and Android to help you out. Eclipse 2017 has a viewing guide, information on the deeper science behind the eclipse, solar research from the foundation, and a livestream of the event.
bostonmagazine.com