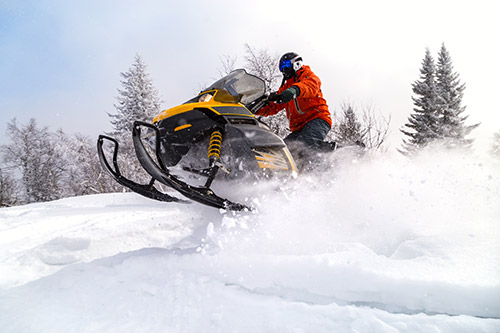 So, you're ready for your first snowmobile? It's not easy watching your buddies post pictures and videos on Facebook of their latest trip out to the mountains and not develop a want to try it out yourself too. There are a lot of options out there for snowmobiles. Choosing the right one to be your first sled can be a little intimidating.
So how does one choose the right snowmobile? There are a few questions to ask yourself:
What type of riding will you be doing?
Will you be pulling your fish house out to the middle of the lake? Cruising through powder on your way up the mountain? Is your dream to become the next 509 sponsored rider like Brett Turcotte, Chris Burandt, Cody Borchers, Riley Suhan or Nadine Overwater? Or will you just be putzing around your yard (doing donuts!), pulling your kids on the sled, making trips to the corner store when you don't want to shovel out your truck? You want to find the snowmobile that will best fit the type of riding you intend to do.
For absolute beginners, there are snowmobiles called entry-level snowmobiles.
These are often called trail models. These snowmobiles come equipped with engines ranging from 60-70 horsepower, are easy to ride and relatively inexpensive. They can be equipped with electric start for easy starting, as well as electric reverse for better maneuverability. These snowmobiles are very light and easy to handle and serve as a great way to ease into snowmobiling.
Performance snowmobiles, like performance automobiles, feature slightly higher horsepower engines. The engines generate 85 horsepower and up. These vehicles are slightly heavier than the entry-level vehicles due to engine size differentiation and additional weight related to suspension systems, shock absorbers and more. These vehicles are often equipped with reverse gear and electric start, and are much more responsive and performance oriented.
Touring snowmobiles feature a seat configuration that is designed for up to two individuals, and some features a backrest for added comfort. Touring models usually include side-mounted mirrors, larger windshields, reverse gear and electric start. These vehicles are larger and heavier than both performance and entry-level snowmobiles and are designed for riding long distances in comfort. The track length of a touring vehicle is also greater. This longer track length cushions your ride, adds stability for two people and provides more comfort and weight.
Mountain snowmobiles, made specifically for mountain riding, tend to be longer and narrower. The vehicle configuration allows for riding hillside in mountainous terrain and through heavy powder. The vehicles have specially designed long lug tracks, which allow them to maneuver through heavy, deep powder conditions. These vehicles generally have high horsepower engines, since horsepower is lost at higher elevations. The riding characteristics of a mountain snowmobile generally lend it to better handling abilities in mountain riding over trail riding.
How much are you willing to spend?
This will determine if you buy new or used. Buying a new sled will ensure you have a warranty in case you run into any issues. Keep in mind that you will also need to budget for other expenses in addition to the sled itself (sled accessories, riding gear, permit, insurance, fuel, etc.).
Pre-owned Snowmobiles at Precision Boats in Idaho Falls
Newer isn't always better. Sometimes having a sled that is broken in will make for an easier ride your first time. If you have concerns about purchasing a used snowmobile, please give us a call or stop by to ask questions. We will always make sure your sled is good to go and be here for when you run into a tree and need us to fix it! We have the best snowmobile repair mechanics in this area. All of our technicians ride their sleds on the weekend and will know the best and fastest way to get you back riding on your snowmobile.
If you're ready to take the dive and want to start fresh, Precision Boats stocks the newest and latest models by Arctic Cat. Check out the brand new 2019 editions of Arctic Cat Snowmobiles here.
Do you have your license and permit?
Every snowmobile state and province requires that your snowmobile be properly licensed or registered. Licensing information is available through your state snowmobile association and through your local state natural resource office or highway department. Licensing requirements for driving a snowmobile vary from state to state and that information is available from your state snowmobile association.
It is always recommended that first-time riders attend a safety class, and also review the Safe Riders website for snowmobile tips and instructions that highlight the importance of snowmobile training.
Source: precision-performance.com