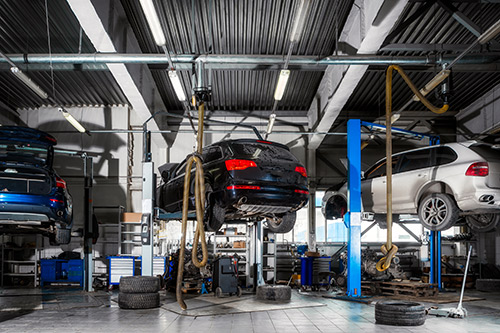 "If you've got people saying, 'I've used this guy for 20, 30 years and he's always been good,' you don't want to ignore that," says Heath Knox, a veteran of an AAMCO transmission shop and a Chevrolet dealership who now helps maintain a fleet of trucks for a company that deices airplanes at Pittsburgh's airport. Here are some more things to look for when hiring someone to maintain or repair your vehicle.
1. The shop has the right certifications.
Look for blue-and-white ASE emblems; this indicates that the technicians have passed tests and been certified by the National Institute for Automotive Service Excellence. "With technology changing at such a rapid pace, experience can't offset a lack of training," says Dave Cappert, veteran auto technician and now campus administrator for ASE.
2. The shop has a good reputation.
Cappert says it's a good idea to establish a relationship with a dealership or repair shop for routine matters, like oil changes and inspections, so that when you have an emergency or urgent job, you're already comfortable with the shop.
3. The shop has a clean rap sheet.
The Better Business Bureau (bbb.org) can show you how long the shop or dealership has been in business, how many complaints have been resolved lately and its BBB rating. Be wary, though, of online user ratings. Says Cappert: "You've got to watch the outliers. You might have 100 people reviewing a brick, and 99 say that it's sturdy, red and useful. But one guy says, 'Worst brick I ever had.' "
4. The shop shows pride in its appearance.
You can overlook some messiness; it's not a restaurant. But beware of constant untidiness. "Overall sloppiness throughout the shop and the place of business might reflect a lack of attention to detail," Cappert says.
5. The shop's technicians communicate well.
Be sure that they can tell you what's wrong, how it will be fixed and what it will probably cost — in language that you understand. "A good mechanic can lay out for you what work is immediate and necessary, and what can be held off until you have more money," says John Ibbotson, Consumer Reports' chief mechanic. "If you stay loyal, they're bound to treat you right, which can be advantageous when it comes to those really expensive jobs."
6. The shop has a clear warranty policy.
Rather than relying on personalities and relationships, focus on the written warranty that the shop offers on repairs, as well as its track record on making good on its legal commitment, Cappert says. "A shop with a strong, clear warranty policy adds confidence that they will do it right the first time. And should things go wrong, which can happen, the customer knows that it will be made right," says Jeff Bartlett, deputy auto editor for Consumer Reports magazine.
7. The shop looks out for you.
Be sure it gets automakers' technical service bulletins. A TSB provides an automaker's approved way of fixing a growing or common problem — such as rough shifting or a leaking transmission — that doesn't qualify for a recall. Work that's related to a TSB while your car's still under warranty should be free, so be sure to ask.
8. The shop fits into your life.
Don't overlook convenience. Is the shop nearby? Will it give you a ride home after you drop off your car? Pick you up when it's ready? Is there a comfortable and — in this pandemic period — sanitized place (preferably with a Wi-Fi internet connection), should you want to wait while the work's being done? Is there a secure place to leave your keys if you want to drop off the car the night before instead of early in the morning? These are all legitimate criteria and appropriate to ask about.
Understanding the paperwork
Typically, three documents are involved in a car repair. Here's how to understand each and to make sure you are being dealt with fairly.
Drop-off sheet: Typically, this includes your request for specific work or details the "symptoms" you want investigated. Your comments should be specific: What work is the shop immediately authorized to do? Usually, it would be limited to routine maintenance or diagnostics. The form should tell you under what circumstances the shop can do additional work, or charge more, without giving you a written estimate although sometimes a simple phone call and your consent is considered sufficient to proceed with further work.
Estimate: If the initial work was simply to diagnose a problem, or if the shop discovers something serious while doing routine work, it should provide a detailed estimate of the work it recommends and the cost. Only upon your approval can the mechanic proceed. Ask the shop to explain things in plain language if you don't understand it. The estimate should include both a projection of the parts that will be needed and their cost and the hours required to do the job. If you've done your due diligence, you'll know what the labor rate is — probably $100 an hour or more though that can vary widely from shop to shop. Parts are often more involved than you think. For example, replacing a water pump also might require a wide range of clamps and hoses.
The bill: It shouldn't vary much from the estimate unless you authorized more repairs or expenses. Make sure it is detailed; it should list all the parts that actually were used and their costs, as well as a detailed accounting of the time spent on the job. You might see a "shop fee," or a line for "supplies," which usually is explained as a charge for the rags, grease, solvents and safe disposal of any environmental hazards. Sometimes a small shop will itemize those charges, but big shops might just charge a percentage of the bill as a shop fee, or perhaps $40. Either way, you pay for the things the shop uses to do the work.
Source: aarp.org