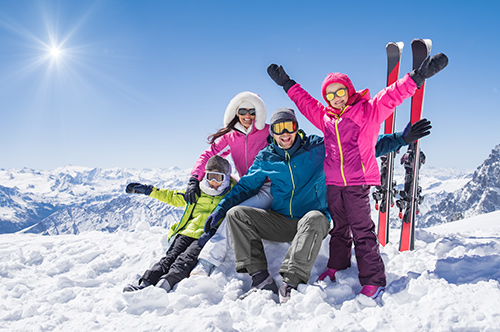 While a helmet, goggles, and gloves are a few important things to bring along for a long day on the slopes to stay safe and warm, common sense is probably the most important thing to bring when you're skiing or snowboarding.
On a busy Saturday, there can be thousands of people at a ski resort. Navigating through dozens of people at varying skill levels on the same run can feel like a game of Frogger as you dodge ski school groups, stopped skiers or snowboarders, and speed demons.
Ski and snowboard injuries are common
While deaths are relatively rare – approximately 38 per year out of over a million ski days per season, according to the National Ski Areas Association – ski collisions and non-life-threatening injuries are much more common. Researchers at Johns Hopkins Hospital estimated that about 600,000 people nationally are injured each year as a result of skiing and snowboarding.
The National Ski Areas Association developed "Your Responsibility Code" to help skiers and boarders be aware of the risks associated with snowsports.
Know the Code
Here are the seven rules of slope safety to keep you and others out of harm's way:
Always stay in control and be able to stop or avoid other people or objects.
People ahead of you have the right of way. It's your responsibility to avoid them.
Don't stop where you obstruct a trail or aren't visible from above.
Whenever starting downhill or merging into a trail, look uphill and yield to others.
Always use devices to help prevent runaway equipment.
Observe all posted signs and warnings. Keep off closed trails and out of closed areas.
Prior to using any lift, you must have the knowledge and ability to load, ride, and unload safely.
Ultimately, it's up to each of us to use common sense, show courtesy to others, and be aware of our surroundings to stay safe on the slopes.
Source: intermountainhealthcare