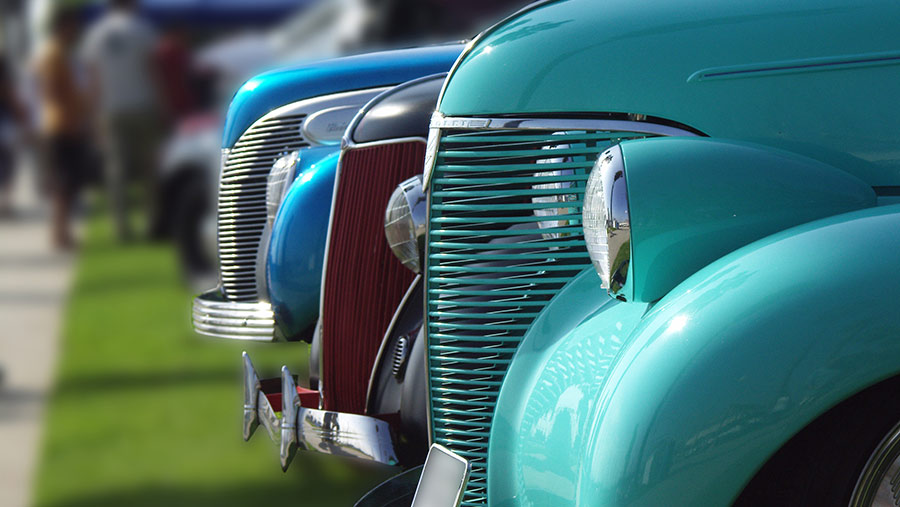 Turning an antique bucket of bolts into a cherry ride takes know-how — and making a profit is even trickier. Here's what you need to think about.
It's a used car
A classic car is, strictly speaking, a used car. A special used car, to be sure. A classic is defined as:
A motor vehicle 10 or more years old, which is rare or of special historical interest because of exceptionally fine workmanship or limited production. A classic motor vehicle 25 years old or older is covered as an antique.
Antique Automobile: A motor vehicle 25 or more years old.
Purchased thoughtfully and restored knowledgeably, some classic cars do appreciate. Plenty depreciate, though. You can't know the market value of a vehicle until you sell it, and lots can go wrong before then. The market for collector cars, like markets for stocks or corn futures, is subject to unpredictable forces, like the larger economy and the changing tastes and emotions of buyers.
Here are 10 rules of the road for buying a classic car:
1. Get a professional inspection before buying
You can go online and research prices that restored vintage vehicles are commanding. There's so much information out there that it's possible to delude yourself into thinking you know what you are doing. You start dreaming of a slam-dunk deal when you find an old hulk at a bargain price.
Making a nice profit isn't simple, though. Don't buy a vintage car without having an experienced mechanic, whose credentials you know and trust, evaluate the vehicle's condition and assess the cost of the renovation.
2. Say "no" to rust
When you see major rust on a vehicle's body, run. Rust damage makes it unlikely you'll be able to restore a vehicle to classic condition.
3. Research insurance costs
Surprisingly, insurance can be cheaper for antique cars. But there's a catch: To get low rates you can't drive your collector car much. Specialized policies for antique vehicles often have lower premiums because the cars are babied and driven less.
When it comes to insurance, there are a lot of different options based on how the car is valued and driven.
Even if you drive your classic, shop to compare policy options. You may be paying too much with a traditional auto policy.
4. Decide whether to drive it
You'll have to decide if your classic car is too precious to drive. A vehicle's worth depends on its condition, so taking it on the road risks damaging its value.
Collectors should not to be so fussy that they miss the joy of ownership. Get out and drive it, he says:
Generally speaking, when it comes to classic cars, Americans are obsessed with perfection. So much so that we are willing to trade it off for the enjoyment that the car might otherwise provide.
5. Factor in the cost of upkeep
If you are thinking of buying a vintage vehicle to drive, remember that it is one old car. Brauer tells of buying a 1970 Plymouth GTX for $4,000, driving it for 24 years and selling it for $24,000. Sounds like a decent deal, he says, until you realize that he spent $15,000 on upkeep, including rebuilding the engine and refreshing the interior, repainting and repairing rust and dents, insurance, fuel and regular maintenance. His profit on the "investment:" $5,000.
Now ask your accountant 'Is a $5,000 return on a $19,000 expenditure, over 24 years, a good investment?
6. Understand the cost and availability of parts
Parts for these rare old beasts can themselves be rare — and pricey. Again, do your research to be sure you're ready for that expense.
7. Find a mechanic before you buy
Buying a collector car means that, unless you do the work yourself, you could be at the mercy of a few experts who command high rates. Scope out the availability of these mechanics in your area who can do the job, and learn about their rates and background.
8. Follow your heart
Because you realize that car collecting is a hobby, not an investment, don't ever buy a car that you're not deeply passionate about.
Don't buy a vehicle that you aren't aching to drive. Don't buy a car just because it seems like a great deal. If you don't have the love, don't bother.
9. Muscle cars are having a moment
If you love "gas hogs" you are lucky. Today, big, vintage American "big-block" cars with enormous motors are very hot.
Camaros, Corvettes, Chevelles, Mustangs … those are considered the big blocks.
10. Run the numbers — these numbers
Although few things guarantee you'll make money on a vintage car, one factor helps enormously: ensuring that numbers on three of the important vehicle parts — the engine, transmission and rear axle — all correspond to the car's VIN (vehicle identification number) that is stamped on it in the factory:
Source: moneytalksnews.com